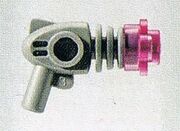 Sonic guns were small hand-held blasters utilized by the Aliens. There are two known types.
Description
Edit
Type-I
The first variation of the weapon is silver and rounded with a short, ribbed barrel and a transparent pink tip. Its sonic blasts are in the form of thin bolts of reddish energy. This sonic gun is smaller than the Type-II and can often be seen clipped onto the hull of an alien craft.
Type-II
Type II is larger than its silver counterpart and is mainly black. It is shaped like a scorpion and has a large circular section underneath it, from which the barrel, which is little more than a stub, protrudes. The barrel is tipped by a large transparent pink dish where the sonic beams are fired from. These blasts are purple and very explosive.
Ad blocker interference detected!
Wikia is a free-to-use site that makes money from advertising. We have a modified experience for viewers using ad blockers

Wikia is not accessible if you've made further modifications. Remove the custom ad blocker rule(s) and the page will load as expected.