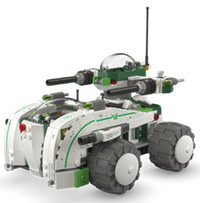 This page is for the storyline model. You may be looking for 70704 Vermin Vaporizer, the set in which this model appears.
The Vermin Vaporizer is a large vehicle which consists of three separate vehicles.
The car is the main part of this set. It only has a small amount of guns,
but the mech and the lab car can connect to make it bigger and stronger.
The wheels are plastic, which were used in Mars Mission sets.
The mech can detach from the car. It has an energy shield and two guns, plus flick fire missles. 
The lab car
Edit
the lab car can come out of the front of the vaporizer. It is a small rover.
Ad blocker interference detected!
Wikia is a free-to-use site that makes money from advertising. We have a modified experience for viewers using ad blockers

Wikia is not accessible if you've made further modifications. Remove the custom ad blocker rule(s) and the page will load as expected.